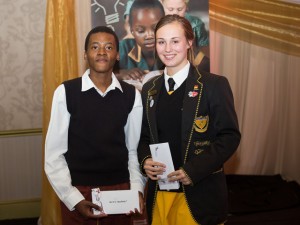 The 52nd National Science Olympiad awards ceremony will take place on 30 June 2016 at the Gallagher Convention Centre, Midrand, in Gauteng.
The awards ceremony will honour South Africa's top young science learners in 2016 in various categories, such as Top National Winners for Life Sciences and Physical Sciences, Top Girl Learners, Top Learners from Previously Disadvantaged Schools and Top Learners from Southern African Development Community (SADC) Schools. The South African Agency for Science and Technology Advancement (SAASTA) will present awards to these top achievers.
The National Science Olympiad is one of SAASTA's flagship projects. Since 2005, the 52-year-old project has offered learners in grades 10 to 12 an exciting opportunity to compete in science with fellow learners from SADC countries such as Lesotho, Zimbabwe and Namibia.
The competition comprises an annual examination in science (Physical and Life Sciences). Learners and schools stand a chance to win exciting prizes. The top national performers can win an all-expenses-paid trip to the London International Youth Science Forum and the Australian National Youth Science Forum.
The Olympiad comprises two papers/streams: Physical Science (Physics and Chemistry) and Life Science. Learners can choose to write either the Physical Science or Life Science papers.
The main aims of the competition are to identify talent, to encourage excellence in science education and to stimulate interest in the sciences. It seeks to inspire young people to consider careers in science and technology.
The competition was established in 1964, initially for grade 12 learners, with the objective of promoting Physical Science. Over the years, participation and performance in the National Science Olympiad has increased significantly from about 700 learners in 1967 to more than 30,000 in 2014.