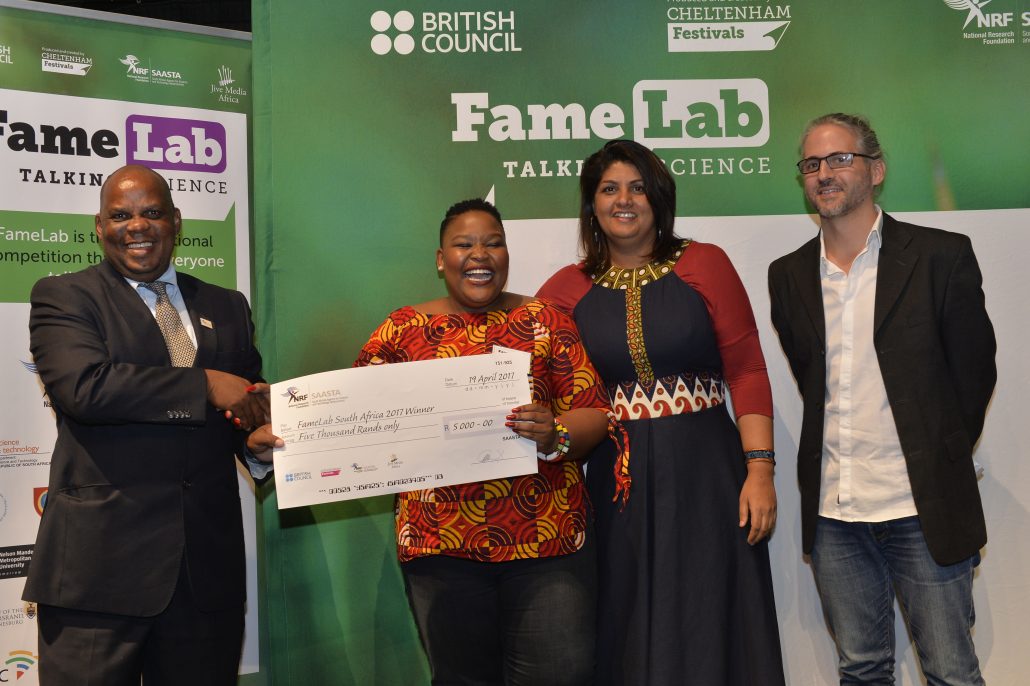 Tshiamo Legoale (second from left) from Mintek is the 2017 FameLab SA winner. Awarding her prize are the FameLab partners, Dr Jabu Nukeri from SAASTA (first left); Ms Anisa Khan from the British Council (second from right) and Mr Robert Inglis from Jive Media Africa (far right).
Geologist, Tshiamo Legoale Wins the FameLab South Africa competition: Taking African Science to the World
Congratulations Tshiamo!
Tshiamo Legoale from Mintek, a global leader in mineral and metallurgical innovation, earned her spot as the national winner of the FameLab South Africa competition on 19 April 2017. She captivated the audience with her riveting 3 minute talk on phytomining, or in simpler terms, how we can harvest gold from wheat crops grown on mine dumps. Tshiamo, who joined Mintek in 2012, is an MSc Environmental Management student at the University of Free State (UFS) and holds a degree in Geology and Mineral Resource Management from Wits University. She competed against nine other finalists, selected from over 200 young researchers who participated in FameLab heats across the country. Tshiamo will now represent South Africa at the International FameLab competition at the Cheltenham Science Festival (UK) from the 5th-8th of June.
"I am very grateful for the opportunity that Famelab has given me and am excited that I am going overseas. But most importantly I am very humbled that my science has been recognised as being entertaining, important and relevant to society today." She hopes her idea can assist impoverished communities with building a business case to beneficiate geological ore bodies, which are found in areas rich in natural mineral resources. "So this is one technological innovation that we plan to transfer to the communities that can use it. Hopefully in future this can help employ a few people – it will be fields of gold to harvest," she said. 
What is FameLab?
FameLab is one of the biggest science communication competitions in the world. Young scientists present and explain a scientific concept to a general audience in three minutes.
By taking part in FameLab, young scientists have the opportunity to inspire the next generation of scientists and engineers, gain invaluable communication skills, and meet amazing like-minded people. Importantly they also become part of an increasingly exciting network of scientists and engineers able to clearly and imaginatively explain their science to the general public.
Should your institution wish to get involved in FameLab 2018, submit an expression of interest form or contact Anisa Khan at the British Council famelab@britishcouncil.org.za
FameLab in South Africa is made possible by a partnership between the British Council, the South African Agency for Science and Technology Advancement and Jive Media Africa.