Brief overview (What we do)
The Greenpower Challenge is a national programme to promote engineering and technology to students aged 9-25 through a unique hands-on project to design, build and race an electric car.
Ideal for primary & secondary schools, youth groups and privateers.
The events involve 2 x 90 minute races. The format allows a two-hour break between F24 races (secondary category) during which the Formula Goblin race are held (primary category), and during this period teams will be free to make changes to their cars because of experiences in the first race but crucially this will also be the time when F24 cars are judged for supplementary awards. All teams have the same motor and one pair of 12 volt batteries per race. During the race, at least three team members must drive the car, and up to six further members can act as pit crew. Drivers may only drive for one car and for one team and each driver must drive for a minimum of 15 minutes. Other than the motor and batteries you are free to design a car from your own imagination, or build one of the fantastic kit cars. All cars must follow a set of strict regulations.
Who is the Olympiad/Competition Coordinator
The Greenpower Challenge in association with the Advanced Energy Foundation.
The Greenpower Challenge believes that providing young people with an exciting, real life project is the most successful way of sparking an interest in engineering, helping to address the serious skills gap SA faces in this crucial business sector.
Our challenge, to design, build and race a single seat electric car uses the excitement of motor sport to inspire students from primary school through to university to excel in STEM studies. Four age appropriate formulas enable young people to enter races using either kit cars or scratch built cars allowing them an insight into key engineering design and build processes.
Grade 2 to Grade 12 learners from schools based in South Africa.
The Greenpower Challenge created several practical, educational engineering challenges. Our initial project, an electric car challenge which requires students, guided by their teachers and an industry mentor, to design, build and then race an electric car. Holding events over weekends at motor circuits around SA ensures excellent attendance from the public who can witness the amazing vehicles build and designed by the students and witness the team work that is required to successfully complete the programme.
Entry fees may vary depending on sponsorship. 2017 fees are R2000 per team.
Each Greenpower team will be linked with industry specialists for the duration of the project, which will provide workplace inspiration and support for the students, including workplace visits, mentoring through the design and build of their car, and work experience placements. Siemens also provides all participating schools with free access to its industry-leading computer aided design (CAD) software, Solid Edge, to help Greenpower teams engineer and design their vehicles.
The national challenge takes place in the first week of October.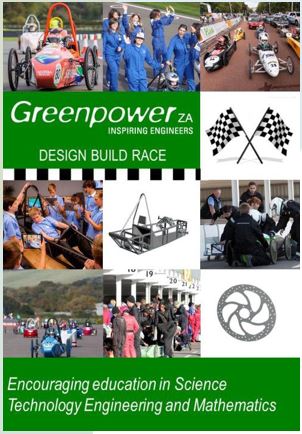 Project Coordinator: Winstone Jordaan
Tel: (082) 415 1122