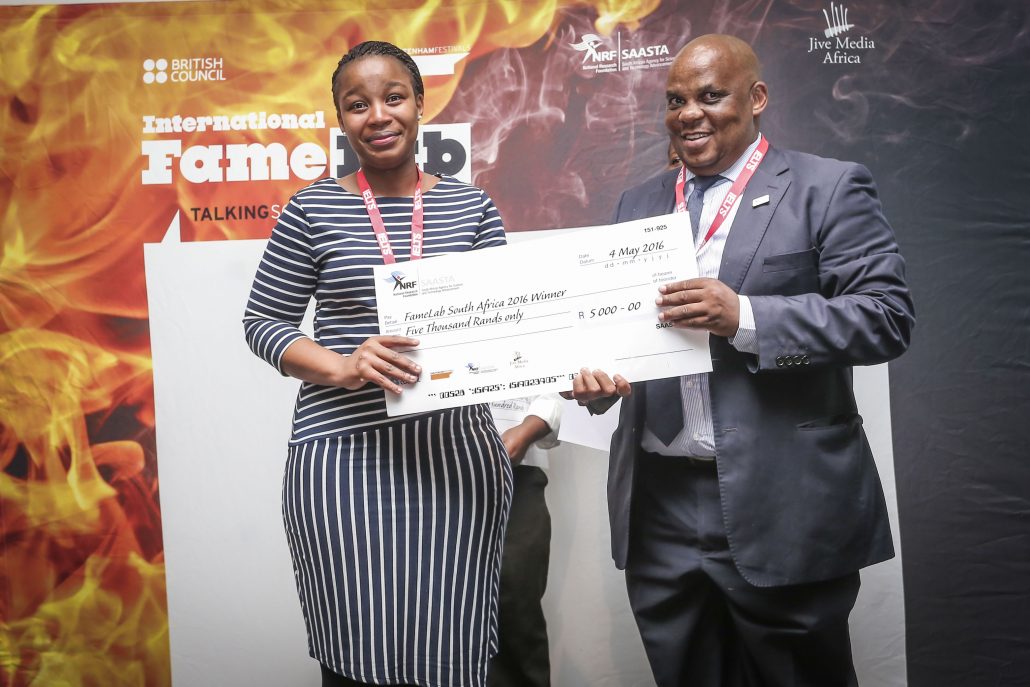 Nozipho Gumbi FameLab South Africa 2016 Winner
What is FameLab?
FameLab is one of the biggest science communication competitions in the world. Young scientists present and explain a scientific concept to a general audience in three minutes.
By taking part in FameLab, young scientists have the opportunity to inspire the next generation of scientists and engineers, gain invaluable communication skills, and meet amazing like-minded people. Importantly they also become part of an increasingly exciting network of scientists and engineers able to clearly and imaginatively explain their science to the general public. 
---
Heats 2017
Regional heats are the first steps in the FameLab journey. Being able to dazzle the judges will secure your place in the national finals, where you will battle it out to represent South Africa at the FameLab international final in the UK.
Details for the heats are as follows:
| | | | |
| --- | --- | --- | --- |
| Institution | Training | Heat | City |
| Science Forum South Africa (SFSA) | 5 December 2016 | 8 December 2016 | Pretoria |
| Council for Scientific and Industrial Research (CSIR) | 22 November 2017 | 8 February 2017 | Pretoria |
| University of Limpopo- Science Education Centre | 14 February 2017 | 15 February 2017 | Limpopo |
| Academy of Science of South Africa (ASSAf) | 1 March 2017 | 2 March 2017 | Pretoria |
| Central University of Technology & University of Free State | 1 March 2017 | 2 March 2017 | Bloemfontein |
| University of South Africa | 7 February 2017 | 3 March 2017 | Pretoria |
| Tshwane University of Technology | 17 February 2017 | 3 March 2017 | Pretoria |
| Square Kilometre Array (SKA) | 24 February 2017 | 7 March 2017 | Cape Town |
| University of Cape Town | 6 March 2017 | 7 March 2017 | Cape Town |
| Nelson Mandela Metropolitan University | 8 March 2017 | 9 March 2017 | Port Elizabeth |
| MINTEK | 21 February 2017 | 14 March 2017 | Pretoria |
| WITS | 22 February 2017 | 15 March 2017 | Johannesburg |
| Centres of excellence (WITS) | 23 February 2017 | 16 March 2017 | Johannesburg |