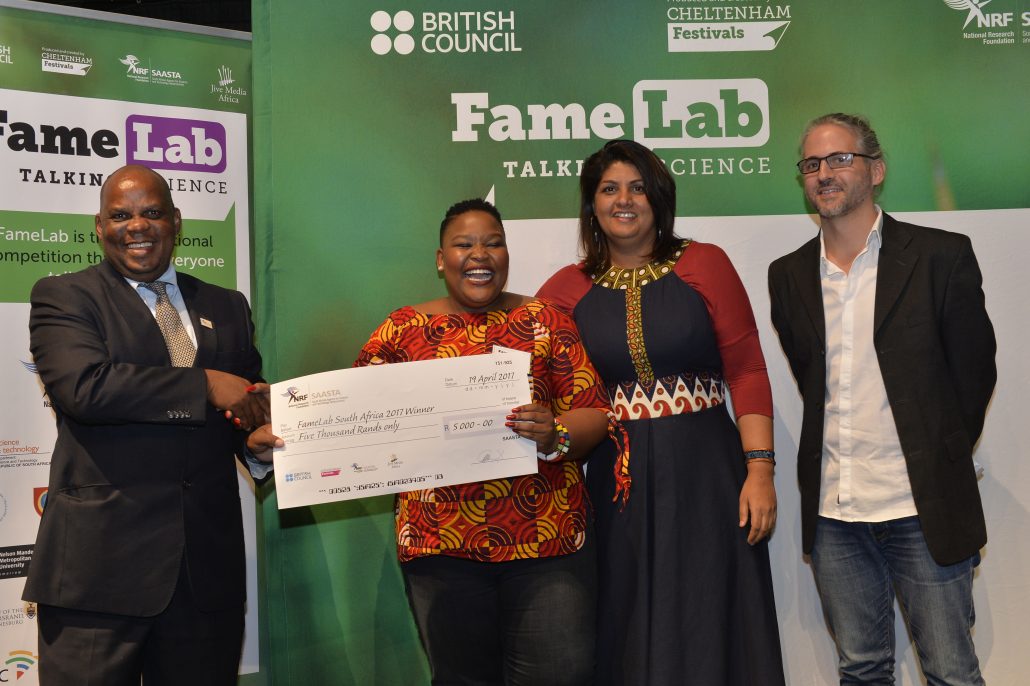 Tshiamo Legoale (second from left) from Mintek is the 2017 FameLab SA winner. Awarding her prize are the FameLab partners, Dr Jabu Nukeri from SAASTA (first left); Ms Anisa Khan from the British Council (second from right) and Mr Robert Inglis from Jive Media Africa (far right).
Geologist, Tshiamo Legoale Wins the FameLab South Africa competition: Taking African Science to the World
Congratulations Tshiamo!
Tshiamo Legoale from Mintek, a global leader in mineral and metallurgical innovation, earned her spot as the national winner of the FameLab South Africa competition on 19 April 2017. She captivated the audience with her riveting 3 minute talk on phytomining, or in simpler terms, how we can harvest gold from wheat crops grown on mine dumps. Tshiamo, who joined Mintek in 2012, is an MSc Environmental Management student at the University of Free State (UFS) and holds a degree in Geology and Mineral Resource Management from Wits University. She competed against nine other finalists, selected from over 200 young researchers who participated in FameLab heats across the country. Tshiamo will now represent South Africa at the International FameLab competition at the Cheltenham Science Festival (UK) from the 5th-8th of June.
"I am very grateful for the opportunity that Famelab has given me and am excited that I am going overseas. But most importantly I am very humbled that my science has been recognised as being entertaining, important and relevant to society today." She hopes her idea can assist impoverished communities with building a business case to beneficiate geological ore bodies, which are found in areas rich in natural mineral resources. "So this is one technological innovation that we plan to transfer to the communities that can use it. Hopefully in future this can help employ a few people – it will be fields of gold to harvest," she said. 
What is FameLab?
FameLab is one of the biggest science communication competitions in the world. Young scientists present and explain a scientific concept to a general audience in three minutes.
By taking part in FameLab, young scientists have the opportunity to inspire the next generation of scientists and engineers, gain invaluable communication skills, and meet amazing like-minded people. Importantly they also become part of an increasingly exciting network of scientists and engineers able to clearly and imaginatively explain their science to the general public.
Should your institution wish to get involved in FameLab 2018, submit an expression of interest form or contact Anisa Khan at the British Council famelab@britishcouncil.org.za
FameLab in South Africa is made possible by a partnership between the British Council, the South African Agency for Science and Technology Advancement and Jive Media Africa.
Prizes and Judges
Prizes
All participants who are selected as semi-finalists at a FameLab South Africa heat will receive R500 gift vouchers and all expenses paid master class training. Find out more here.
Judges
Judges can come from a range of disciplines and backgrounds including science, science communication, media and FameLab alumni. Find the judges' top tips here.
Previous Winners
Nozipho Gumbi (2016)
Nozipho Gumbi has big dreams and hopes for a world that is free of water scarcity and poor-quality water. Originally from KwaZulu-Natal, South Africa, she recently visited Karlsruhe Institute of Technology in Germany as an exchange student for a duration of six months, where she was advancing her PhD studies. She is researching the unlimited possibilities offered by carbon nanotubes and seeks to exploit some of their features for enhanced water purification purposes in order to realise her dreams. After winning the Famelab South Africa 2016 title and being in the top ten Famelab international final in the UK, she says that life has never been the same for her. She has done several radio and television interviews in South Africa, and was recently recognised by the South African news source the Mail & Guardian in its 200 Young South Africans supplement for 2016. On the 30th of September 2016, she was amongst the six Famelab alumni's that participated in the Hall of Famelab competition that was part of a larger night of science communication called Science Uncovered, held at the Natural History Museum in London. Additionally, Ms Gumbi is actively involved in the mentorship and in the tutoring of young girls and boys that are taking science at high school level.
Stevie Biffen (2015)
Stevie is inspired by what makes us human, has Honours degrees in both psychology and biological anthropology, and is now a candidate for a PhD in neuroscience. She has a passion for passing on knowledge as she believes that science should never be reserved for the selected few, who have had the privilege of studying it.
Raven Motsewabangwe (2014)
"Being crowned the South African FameLab champion has changed my life in ways I never thought possible" says Raven, who was awarded a full bursary to study his masters degree in biology by the North-West University after winning FameLab following which he was selected as a representative for the microbial biotechnology laboratory to conduct a collaborative study with the Instituto Nacional de Tecnología Agropecuaria (INTA) in Argentina. Raven's favourite quote is by Albert Einstein: "I am not a genius, just passionately curious."
Michelle Knights (2013)
Michelle is a young scientist who is making a mark in the science communication community – she won South Africa's first-ever FameLab competition and she also won a first prize in broadcast category of SAASTA's Young Science Communicators competition earlier, the same year! Michelle holds BSc degree in Physics and Maths from Rhodes University and did her Honours with the National Astrophysics and Space Science Program (NASSP) at the University of Cape Town (UCT). She later upgraded her degree to PhD in Cosmology.
Famelab 2016
SAASTA congratulates Nozipho Gumbi, the FameLab SA 2016 winner from UNISA, on her success in the FameLab International competition held at the Cheltenham Science Festival on 8 and 9 June 2016 in the UK. National finalists from 30 countries came together to compete in three semi-finals, and Nozipho was selected to go through to the international finals as one of 12 finalists. Nozipho, you have made us proud. You are a truly inspiring role model for woman in science everywhere. Watch the Famelab International Final here.
Nozipho was also invited as one of six Famelab alumnis that participated in the Hall of Famelab competition that was part of a larger night of science communication called Science Uncovered, held at the Natural History Museum in London, in September 2016. She was also recognised by the Mail & Guardian in its 200 Young South Africans supplement for 2016.